Beginning Harmonica: Recommended Extras
What else do you need besides a good harmonica to get started? Not much really, but here are some "Recommended Extras" and accessories. And lucky you, some you may already have.

SAMPLE VIDEO: Harmonica Lessons for Beginners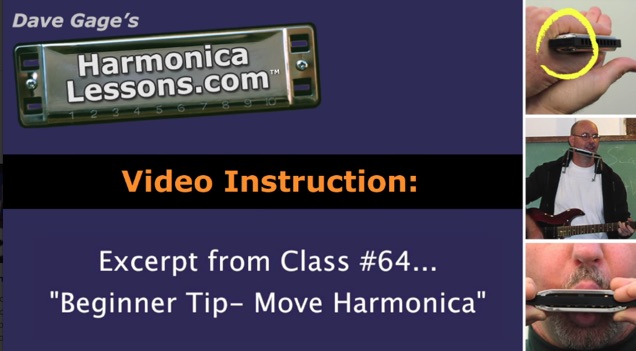 A simple playing tip to speed up your movement and add accuracy in single notes.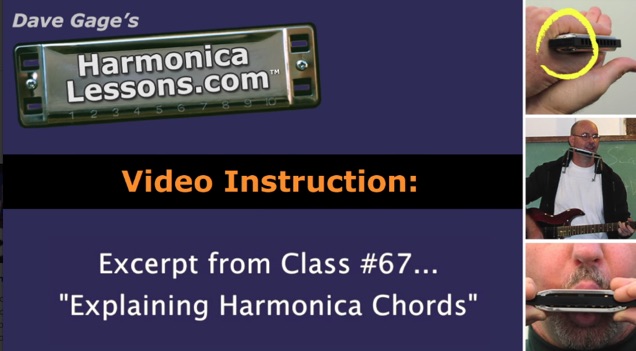 Dave gives a general overview of what you can obtain from both diatonic and chromatic harmonicas in regards to harmonica chords.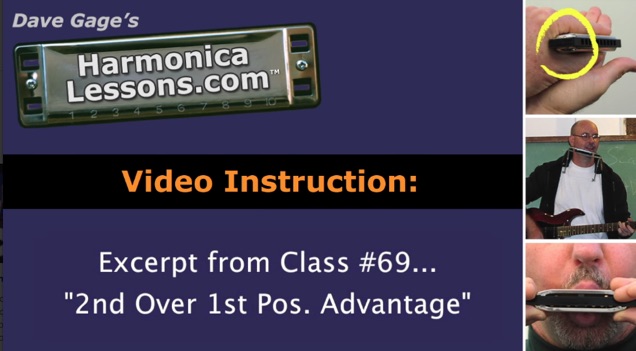 In this excerpt, Dave discusses some of the reasons for playing in either 1st Position or 2nd Position.
Over 45 Hours of Video Lessons
Attend up to 12 Live Classes per Month
Get Started Now for only
$14.99
Click Here to Sign-Up

Learn more about
Member Benefits
Monthly | Quarterly | Yearly
*Specials*

Mirror- A mirror can be your best friend. It allows you to see if what you think you're doing correctly is actually what you are doing. This is the next best thing to the feedback a private teacher could give you by watching you play in person. Check in the mirror to monitor how relaxed you look, whether or not your head is in a normal position (not hanging down or tilted to one side), proper hand positions when holding, and whether you are moving the harmonica instead of moving your head when going between holes.



Use a mirror for instant visual feedback.



Recording Device (i.e. your computer, mobile phone, or cassette recorder)- A recording device can also be your best friend. It allows you to actually hear if what you think you're doing correctly is actually correct (especially important for learning to play single notes and bending). This is the next best thing to the feedback a private teacher could give you by listening to you in person. When you record yourself, give it a day or two before you listen back. This way you can listen to it a bit more objectively (we tend to either be too hard on ourselves or too easy).

Many computers come with basic recording software. You can also find and download freeware and shareware recording software from the Internet. Combine the computer software with a USB microphone, which are fairly inexpensive, and you will have a great set-up for simple recordings.


CD Suggestions for Listening/Playing To- Visit the "Recommended For Beginners" music CDs section of our Harmonica Store for suggestions on harmonica players' CDs to listen and jam to. You will see "Recommended For Beginners" following a CD description in our Store when the CD contains at least a few songs on it that can be played along with on a standard key of "C" diatonic (most likely played in the 2nd position in the key of "G").

We will also recommend the CD for beginners if the harmonica played on it is good for "ear training", that is, simple enough that a new player can begin to copy some of the riffs, sounds, and techniques found on it. All of these CDs are a good introduction to harmonica playing. Be sure that the harmonica you are using is in the same key as what is being used on the particular CD track. The CDs: Song Keys section will tell you which is the correct key of harmonica for many favorite albums.


Additional Songs & Tabs- Although the Harmonica Lessons.com website offers over 185 Tabs & Song Lessons, you may have the thirst for more or have a specific interest in a style of music or artist (i.e. Christmas, Blues, Fiddle tunes, Bob Dylan, Hymns & Gospel, Beatles, Little Walter, etc.) Visit our Store- Song & Tab Books section for a complete listing of what we recommend.



Aside from our songs & tabs, our Store offers even more.



Patience- Take your time. The harmonica is deceptively difficult. Try not to spend your time worrying about how good you're becoming. Have fun with it. If you had never played tennis before but wanted to get started, you couldn't expect to go out and win matches without some basic instruction, lots of practice, some passage of time for things to sink in, and lots more practice.


Full Membership at Harmonica Lessons.com- In addition to the complete beginning instruction with Lesson Plans and 'Beginners Shortcuts', you have access to in-depth technique instruction, over 100 Tabs & Song Lessons, Discussion Forums, Blues Improv, Advanced Techniques, Scales and Theory, 85 CDs listed with Song and Harmonica Keys, and more. Click here to become a member or for more info.



Back to Top

This is a big website. In order to use it effectively and efficiently, you'll want to read the next Using the Site page for suggestions on how to get the most out of your time spent here.