Chromatic Harmonica Lessons: Main Page
SAMPLE PAGES:




MEMBER-ONLY PAGES:


Which Chromatic to Buy?
Lesson Plans
Playing Techniques
How to Improvise
Chicago Blues Style
Chromatic on Diatonics
Repairs & Cleaning

SAMPLE VIDEO: Chromatic Harmonica Lessons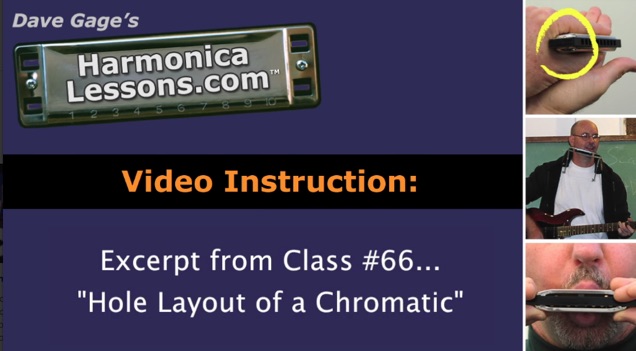 Knowing the names of the notes is great for: learning scales, keying songs, reading music, and to play in different keys of music.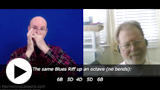 You'll hear a demo on both diatonic and chromatic harmonicas using the Tongue Blocking technique of "Octaves" to follow the chord changes.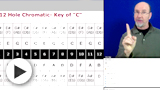 Dave plays notes on the chromatic harmonica. Then, you listen and identify the note he plays. Hard at first, but it gets easier the more you do it.

Chromatic Harmonica Instruction
Section Includes:
"Chromatic vs. Diatonic"
"Which Chromatic Harmonica to Buy?"
"Lesson Plans"
"Playing Techniques"
"70 Songs"
"How to Improvise"
"40 Scales"
"Chicago Blues Style"
"Chromatic on Diatonics"
"Hole/Note Layouts"
"Repairs & Cleaning"
'Jam-To' MIDI Files (65)
"Terms & Definitions"
AUDIO: "Chromatic Harmonica vs. Diatonic"

Comparing the two harmonicas including a key of "G" blues scale on a "C" diatonic and then on a "C" chromatic.




The chromatic harmonica defined- The chromatic harmonica has a button on the right side which when NOT pressed in, allows you to play a standard major scale in the key of the chromatic (typically, the key of "C"), and with the button depressed, gives you all the half-steps or notes in between. This creates a 12-note chromatic scale (all the notes possible in Western Culture music -- like the white and black keys of the piano) and allows you to play any type of scale, in all 12 keys. It is typically used in jazz and classical music, but is found in all styles of music. Click here if you need to purchase a chromatic harmonica.



10, 12, and 16-hole chromatic harmonicas (harps).



"Solo" tuning- Almost all chromatic harmonicas use what is referred to as "solo" tuning for the hole/note layout. The solo tuning is based on a repeating 4 hole pattern with the blow notes being [ C E G C ] and the draw notes being [ D F A B ]. A twelve hole, 3 octave chromatic would have this pattern repeat 3 times. This is different than the standard diatonic hole/note layout which is referred to as the Richter Tuning.


Every set of 4 holes is an identical note layout- A complete "C" Major Scale is found starting on holes 1, 5, and 9 (and hole 13 on the 16-hole chromatics). The pattern is identical if you start on any of these notes for scales and/or songs.


More on "C E G C" and "D F A B" [Pronounced "SEG-SEE" and "DEE-FAB"]- Every set of 4 holes will give you "C E G C" on the blow holes and "D F A B" on the draw notes. For instance, if "C" is found on holes 1 and 5 blow, then "G" will be found on holes 3 and 7 blow.


Middle "C"- Middle "C" on the 10 and 12 hole chromatics is found on hole 1 blow. Middle "C" on the 16 hole chromatic is found on hole 5 blow (hole 4 blow is the same).


How come there are 2 identical blow notes next to each other?- This is a direct result of the "solo tuning" (read above for more info) found on standard chromatics. Double "C" notes are found on an standard key of "C" chromatic harp at holes 4, 5 blow and 8, 9 blow (also holes 12, 13 on a 16 hole chromatic). For a clear illustration of this, take a look at the chromatic harmonica hole/note layouts page.


Bending notes on a chromatic harmonica- Because of it's physical design (the added windsaver valves in particular), bending doesn't work nearly as well on the chromatic as it does on the diatonic harmonica (most notes on a chromatic harmonica will bend about a half-step). You can't obtain the same bending effect, but you also do not need to learn to bend in order to play a complete chromatic scale or sophisticated melodies. All notes on a chromatic harmonica will bend anywhere from a quarter-step to a half-step. You will get some bending effect, but nothing like what is possible when bending on a standard diatonic harmonica.


Reading music and song tab for the chromatic- The chromatic harmonica (or harp) Hole/Note Layout, sometimes referred to as "Solo" tuning, is similar to the diatonic hole layout (referred to as "Richter" tuning), but not the same, so song tablature is different. Many accomplished chromatic players are able to read standard music notation which eliminates the need for song tab. Reading standard music notation makes more sense and is easier on the chromatic harmonica than on the diatonic, but it is not required to read music to play songs or improvise with a chromatic. See our song tabs for chromatic harmonica.


The chromatic is mostly used for jazz, classical, and pop music- The chromatic harmonica is typically used in jazz, classical, pop, and music where the melodies require more than a 7-note major or minor scale (like on a standard diatonic harmonica). A classic example of where a chromatic would be required is the movie theme song to "Midnight Cowboy". The original theme to "Sesame Street" was also played on a chromatic.


The chromatic harmonica is also found in Chicago Blues styles- Many Chicago blues stylists also integrate chromatic along side their diatonic playing by a using a chromatic harmonica version of 3rd Position with tongue blocking techniques and an over-driven mic and amp sound to create a big, fat "organ-esque" tone unique to blues and chromatic harmonica. Learn more about the Chicago blues chromatic style.



A 16-hole chromatic harmonica is commonly used for the 3rd Position blues style.



Playing songs vs. improvising- Both aspects of playing music on chromatic harmonica are highly recommended, but if you are strictly a "melody" type person and have no interest in improvising to songs, by all means stick with playing songs. But, if you have never tried using a scale to make up your own melodies and riffs, you should give it a try. It's easier to do than many people believe. Click here for information on How to Improvise.


How to play in different keys- The short answer in regards to improvising is to learn the musical scales in all 12 keys (or at least in the keys that you want to play in). If for instance you wanted to play blues in the keys of "G", "A", "C", "D", and "E", you would need to learn the blues scales in those keys and then of course, practice a lot with them. If you are interested in reading music and playing songs, then the issue is moot because the sheet music is already in a specific key. This key is usually the same as the original song or recording, but not always. More on How to Improvise.


People who play the chromatic harmonica/Recommended listening- Stevie Wonder, Toots Thielemans, and Larry Adler are three of the best known players of this instrument. The 40's and 50's were the heyday of the 'Harmonica Bands' (like the "Harmonicats" and "Harmonica Rascals") and were usually led by a chromatic harmonica player. Numerous players primarily known for their diatonic playing may also use the chromatic from time to time (i.e. Little Walter, Norton Buffalo, Charlie McCoy, James Cotton, and others). Click here for some recommended chromatic harmonica CDs.


"Advanced Topics & Chromatic Harmonica" Discussion Forum- If you have particular questions or problems that weren't answered here in the Chromatic Harmonica section, or would like to discuss chromatic harmonica with others, visit our Discussion Forums and take a look around and/or start a new post.


Discussion Forum posts on Chromatic- As always, our Discussion Forums have great additional information. Take a look at the "Chromatic Harmonica" heading found near the bottom of the INDEX TO POPULAR TOPICS & POSTS forum post for a list of forum posts with questions and answers involving chromatic harmonica.



Back to Top