"Jam-To" Blues MIDI File- Key of G
Use the 12 bar blues MIDI file below so that you can practice along using the different methods of Basic Blues Improv described in this section.

SAMPLE VIDEO: Harmonica Lessons for Beginners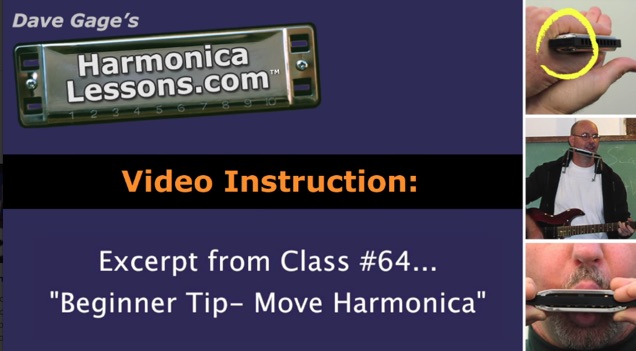 A simple playing tip to speed up your movement and add accuracy in single notes.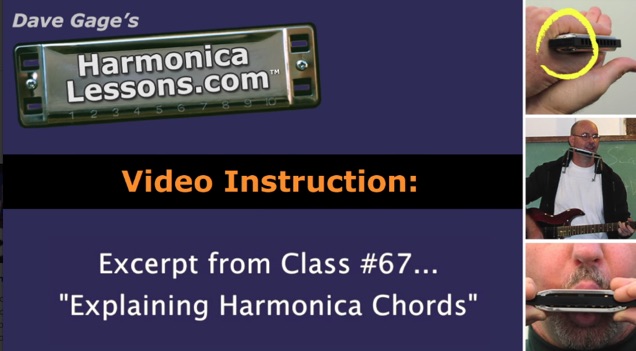 Dave gives a general overview of what you can obtain from both diatonic and chromatic harmonicas in regards to harmonica chords.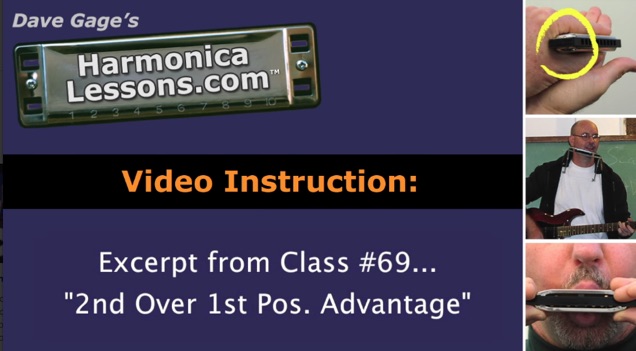 In this excerpt, Dave discusses some of the reasons for playing in either 1st Position or 2nd Position.
Over 45 Hours of Video Lessons
Attend up to 12 Live Classes per Month
Get Started Now for only
$14.99
Click Here to Sign-Up

Learn more about
Member Benefits
Monthly | Quarterly | Yearly
*Specials*

A simple 2nd Position set of notes to begin jamming with . . .


Use any or all of these notes from the "Almost Blues Scale" to create riffs. Avoid starting on hole 4 Blow. It will sound good if you end your riffs on either the hole 3 Blow or the hole 6 Blow (for resolution). Repeat your idea two or three times to create a melodic feel. Initially, don't worry about any additional techniques, you can add those later. And, don't worry about perfect single notes because chords and a little sloppiness will sound just fine. Use a Blues MIDI file to jam to with your key of "C" 10-hole diatonic.

(View all Beginner's Shortcuts)

12 bar blues MIDI file in the key of "G"- Here is a 12 bar blues MIDI file in the key of "G", Slow_Blues_in_G.mid, that you can download and play/practice to. There is over 5 minutes of MIDI music that you can jam to (7 times through the 12 bar blues pattern).





It will play on both Windows PCs and Macs- Once you click on the above MIDI file it should download and begin to play. If it hasn't started playing automatically, you can double-click on this file and it should open your operating system's default MIDI player (Windows Media Player on a PC or QuickTime on a Mac). You do not need special software.


You need a standard 10-hole diatonic harmonica in the key of "C"- This blues MIDI file is in the key of "G" major and you will need to use a standard diatonic in the key of "C" played in the 2nd position to be in tune. For more information on 2nd position, visit the General Overview section.


Begin on the 5th bar- Since the first four bars of the song is an intro, the first full 12 bar blues chord progression begins on the 5th bar. You can start playing at anytime or wait until the fifth bar to begin the full 12 bar blues pattern.


To accurately come in on bar 5. . . - hit the play button on your MIDI player, and then count 1 2 3 4, 2 2 3 4, 3 2 3 4, 4 2 3 4 (four beats or foot taps per bar), and you're in. Another way to come in at the beginning of the first full 12 bar blues pattern, is to listen for the drums to do a short 2 beat pickup (or fill) just before all the instruments begin playing at bar 5.


Additional MIDI Files- More MIDI files are available in different keys, tempos, and grooves on the MIDI Files Page.


CDs to play along with- You'll also want to take a look at the CDs: Song Keys section which contains a listing of albums with each track "keyed" so that you will be able to jam to the songs found on it. Most of the CDs can be purchased via our Store: Buy Music CDs page. Beginning jammers will find the "Recommended for Beginners" CDs page a great place to start.



Back to Top