"Harmonica: Beginners Start Here" eBook
by Dave Gage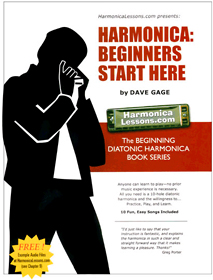 Anyone can learn to play with this Dave Gage easy beginning harmonica book. Clear, concise explanations for beginners of all ages. No prior music experience is necessary. Now, with a FREE 7-Day Trial Membership at HarmonicaLessons.com.

This book is designed for a standard 10-hole diatonic harmonica (preferably in the key of "C") and includes: Techniques, tips, lessons plans, easy blues jamming, and 10 Fun Songs -- you don't need to read music to play them.
Songs:


Amazing Grace

Jingle Bells

Mary Had A Little Lamb

Row, Row, Row Your Boat

Brahm's Lullaby

Frere Jacques

Joy to the World

Oh Susanna

Alouette

Home on the Range


Also Included:


FREE 7-Day Trial Membership

6 Easy-to-Play Blues Riffs

Major Scale

The "Almost Blues Scale"

Six Weeks of Lesson Plans

Learn Single Notes

Bending notes

Breathing Technique

1st and 2nd Positions Explained

Jamming and Improv Tips

Plus: FREE 7-Day Trial Membership
:
...here at HarmonicaLessons.com. Watch 45+ Hours of Video Lessons; Attend up to 12 Live Online Classes Each Month; All Styles & Levels Thru Advanced; Perfect for Kids, Seniors, and anyone in-between; No obligation to join.
-Learn More-
Also: Audio examples for the songs and riffs
:
Access MP3 audio song & riff book example files at HarmonicaLessons.com (see Chapter 9 for details). Bonus website content includes: Harmonica History, Terms & Definitions, Discussion Forums, Games, and Harmonica Types Defined.
Read
Customer Reviews
.

Take it anywhere on your smart phone, iPad, or Android device. It contains features like color photos and clickable Table of Contents.
*This eBook is included FREE
with the purchase of a
1 Year Membership
Download and start learning within minutes!
$17.95


Clear and Straight forward...
"I'd just like to say that your instruction is fantastic, and explains the harmonica in such a clear and straight forward way that it makes learning a pleasure. Thanks!"
Greg Porter, Los Angeles, USA

Ideal for any beginner harmonica player...
"This large-format paperback is ideal for any beginner harmonica player because Dave Gage is a master of blending theory and practice in just the right proportions . He also knows that "keep it simple" is not enough unless wedded to "make it fun." That Gage can do both things without talking down to his instrument or his audience is a marvel in itself.

The song tabs in the book are easy to read, and the conversational writing style relies heavily on bulleted lists to good effect. Crisp black and white photographs are used intelligently throughout.

Basic harmonica instruction can be found in many places, but I know of no other book or pamphlet that offers that in an attractive package together with jamming tips and shortcuts, observations on the difference between practicing and playing, lesson plans on a six-week cycle, and more."
Patrick O'Hannigan, North Carolina, USA