Harmonica Private Lessons
Learn fast and solve playing problems quickly with a "live" 30 minute 1-on-1 private Skype video harmonica lesson with pro player Dave Gage. If you are not able to do a video lesson, you can also do the private harmonica lesson over the telephone (it works great too).
Read
Customer Reviews
.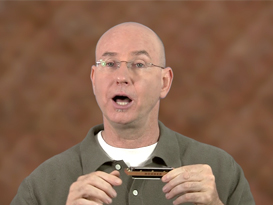 Private Lesson Information

Scheduling the time- Once you've purchased the lesson, please email us from our Contact page with some good days and times of day to schedule the lesson. Dave is in the Pacific Time zone (Los Angeles area), so please mention your time zone when including your best times of day (best times are noon-12 PM and 4-8 PM Pacific--days of the week are flexible). Within another email or two, we should be able to find a time that works for the video lesson.


Prepare a list of items to go over- If you have some techniques or problems you know you'd like to go over with Dave, please make a short list of them and have the list ready for the lesson. We'll try to cram as much good stuff into 30 minutes as we can.


How we connect online for the lesson- Currently, I tend to use our HarmonicaLessons.com Adobe Connect classroom for private 1-on-1 lessons as well as when I do the scheduled live classes. It is easy to use and has instructional advantages over Skype. (Although for some places in the world, Skype may work better for us.)

If we decide to use Skype, you will need an active Skype account (they are free). Once you have a Skype account, you will need to email over your Skype Username before the scheduled lesson. If using a standard computer web browser, you will need to have the Adobe Flash plugin enabled (most people do by default).


Harmonica, webcam, and speakers- You'll need a diatonic or chromatic harmonica (preferably in the key of "C", but not mandatory). Of course you will also need a working webcam and speakers. Your laptop, smart phone, iPad, or Android device should work fine.


Broadband connection- You will need either a DSL or cable modem broadband connection for video. If you do not have one, the lesson can be done over telephone instead.


Test beforehand- Please test in advance that your mic, webcam, and speakers are all in working order.


HarmonicaLessons.com Membership- Being a member of HarmonicaLessons.com is not required, but it is helpful in that I can refer you to portions of the website for specific instruction, further details, and songs and tabs.


Rescheduling a lesson- Lessons can be rescheduled 24 hours or more in advance. Lessons canceled with less than 24 hours notice and "no-shows" will be charged full price. This is a non-refundable item. If you sign-up for a private lesson or a set of lessons, please schedule and use them within 90 days of their purchase date.




I'm now able to play...
"Bought a harmonica and book 5 years ago, tried and tried, and couldn't get anywhere. I've been doing lessons with Dave Gage for 6 months and I'm now able to play 2nd Position blues and country riffs, bend notes; do vertical slot single notes, tongue blocking effects, hah-day hey-dey chugging, songs on the chromatic, and jam to many types of music. Instructions are clear and I can see my steady progress. Highly recommended."
Randy Kerr, Tuscaloosa, Alabama

One lesson with Dave fixed that...
"I started with the website and began to improve my playing. My problem was that I wasn't sure if I was doing the techniques correctly. One lesson with Dave fixed that. I thought I was bending correctly, but he was able to imitate my version and then demonstrate what it should sound like. Websites and books and videos are great, but they don't give you any feedback. 5 our of 5 stars!"
Greg Dale

Your instruction was clear, solid...
"Thanks for the lesson, Dave! Your instruction was clear, solid, and I can already hear and feel a change in my tone."
Alberto Robles, Texas, USA